---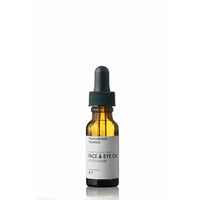 Face and Eye Elixir
Wonderful light weight formula, it has made my wrinkles around my eyes and lips a lot less visible. I use it on any dry spots that may arise for added hydration and moisture.
Wow!
I have always struggled with my skin so when Trisha gave me a sample of this product I thought I would give it a try. On day one I noticed such a difference. I have severely oily skin but I put a small amount of on my whole face and my skin was not oily throughout the day. My skin felt hydrated and bright. I used every last drop of the sample and immediately bought a full size. I won't be going a day without this any time soon!!
feels wonderful.
Just started using Face & Eye Elixir - feels good - waiting for real effects.
Amazing Products
So happy i discovered these amazing organic healthy products. The eye and face oil is just over the top. My skin has never looked so good and healthy. The face cream is smooth. Feels so good and has hydrated my face so much. A little goes a long ways! 100% recommend Trishes products. No shipping charges and she ships fast ! Thank you so very much in making a difference with my skin!