Farm Logic Beauty
THE SCIENCE AND IMPLEMENTATION OF NATURE'S ELEMENTS IN SKINCARE FORMULATIONS.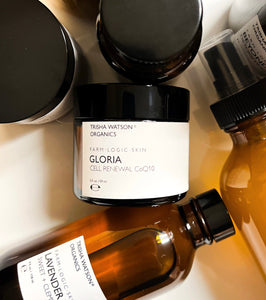 THE NEW GLORIA
The perfect light and breathable product infused with CoQ10 and rich in free-radical neutralizers. Formulated with plant-based antioxidants like astaxanthin, seabuckthorn berry oil, this innovative cream that fights environmental pollutants while rolling back visible signs of aging.
As Seen In
Kind Words
"Absolutely love her products! Best I have tried, and I have tried so many. Also, she is wonderful. So helpful and friendly, and the products came quickly. I am so impressed with the customer service." -Michelle

"I love this skincare! The Eye and Face oil has been so great. The flower girl toner is so luxurious, soothing and a great addition to my daily regime." -Amber

"My face has cleared up! I have been searching for years for skincare that would do that. I am forever grateful! Thank you." -Connie

"I can't say enough about Trisha's skincare. I dealt with deep painful cystic acne and lots of scar tissue due to the aftermath. Since seeing Trisha for a consultation and starting her product, my cystic acne is resolving, and most amazingly the scar tissue is evening out and fading! I am a believer and feel so good about the ingredients I'm putting on my skin!" -Carrie

"I love her products! They feel so fresh and light on my skin! I feel like I could basically eat them!" -Michelle

"I have searched 50 years for something that will change my skin and now I love my skin, don't ever quit making this." -Nonie

"The products are a dream come true! Needless to say, I am in love! Thank you for doing what you do so the rest of us can reap what you have sown." -Candice

"I met Trisha at an event in downtown Spokane. I was intrigued my the line of people trailing form her skincare booth. My girls and I love her products and we will never us anything else. Thank you!! For putting you heart into something that has truly changed me." -Gladys

---
I believe in the beauty of nature and strive to create natural healthy beauty that shines from within. My goal is to share a collective awareness that beauty is beyond physical attributes. Beauty is the face of love rather than the arbitrary gift of fortune. Beauty is not skin deep, when beauty is given to the inward soul, it is then, the inner and the outer become one. When one discovers the real meaning of beauty, they have discovered their own true wisdom, courage and power. These qualities together are the foundation of bliss. There is no cosmetic for beauty like happiness.